Hail Damage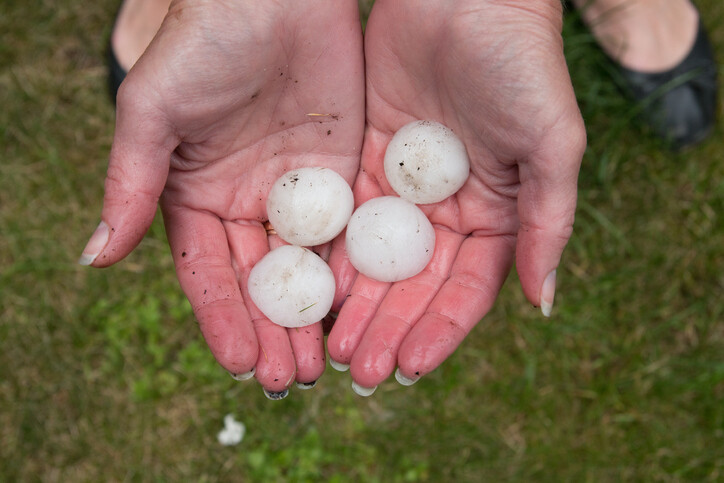 Has hail been raining down on your home or property lately? PJ Roofing, Inc has had extensive experience assessing and remediating property damage caused by hail since 2015. Hail storms can cause damage to your property's siding, roofing vents and the roof itself. This damage can be random with no discernible pattern and potentially go unnoticed to the untrained eye. Hail damage to asphalt and composition shingles can look very different than hail damage to wood shingles. If you have experienced a hail storm recently and believe your property may have been damaged, call the experts today at (352) 707-2499 for a free quote to repair your property.
---
Call for a Quote
---
PJ Roofing, Inc Knows How Harmful Hail Can Be
Did you know that the average hail storms typically last between 5-10 minutes and causes damages totaling around $1Billion a year? Damage caused by a hail storm that is left untreated can lead to the need for significant repairs that are costly and extensive. Whether you have wood shakes or shingles, terracotta tile, asphalt or composition shingles, aluminum or vinyl siding or roof and attic vents hail storm damage can cause damage and breach your home's protective barrier. Hail is especially known for loosening and breaking up the protective outer layer of roofing shingles. Even minimal visible damage could potentially cause unexpected roof leaks later on. The trained professionals at PJ Roofing, Inc have the knowledge and experience to recognize damage and diagnose the proper action for remediation. With timely repairs from PJ Roofing, Inc you can reverse the effects of any damage that was previously incurred on your home or property.
Why Choose PJ Roofing, Inc?
Your home or property is one of your greatest investments and you should not take that lightly! Here at PJ Roofing, Inc our priority is keeping your assets and family safe. We have been serving the local area since 2015 and pride ourselves on our reputation of trustworthiness and high-quality work. Finding a knowledgeable and professional roofing contractor you can rely on to assist you after a storm is crucial, and it's our mission to make PJ Roofing, Inc your hail damage solution provider. Your roof holds on average 10% of your home's total value and we want to help make sure that value will never decrease. There are many ways that we can work with you in regards to inspecting, diagnosing and repairing your roof, give us a call today at (352) 707-2499 to learn more.
What You Can Expect Working with PJ Roofing, Inc
If you suspect your roof or property has suffered hail damage, call PJ Roofing, Inc at (352) 707-2499 and let the experts do the work for you! Call the experts at PJ Roofing, Inc and we ensure the following,
Unmatched professionalism and customer care
The highest of quality products to protect and extend the lifetime of your roofing system
All local building codes and manufacturer specifications to be followed and respected
Upon inspection, we can assist you in deciding if there is enough evidence to file an insurance claim or not
If filing an insurance claim, we will advocate on your behalf ensuring a smooth and stress-free process
Warranty support and assistance years after your project is completed
---
Call for Fast FREE Quote
Dial Area Code first please.
---