Cool Roofs in Belleview, FL
Elastomeric Roofs in Belleview
An elastomeric roof (or cool roof) is one of the best investments you can make on your property. Coating your Belleview roof is the best solution if you are in need of a stronger system that will resist leads and weathering for years to come. We offer free consultations on roofing projects. Just call (352) 325-8385 today.
The benefits to enhancing your Belleview roof with a cool roofing system are many. You will receive unmatched water resistance and weather resistance capabilities to your roof. The super-strong coating system will allow the entire top layer of your building the ability to expand and contract. This is beneficial because the flexibility compensates for the natural swaying and shifting that buildings constantly experience due to wind, temperature changes and settling.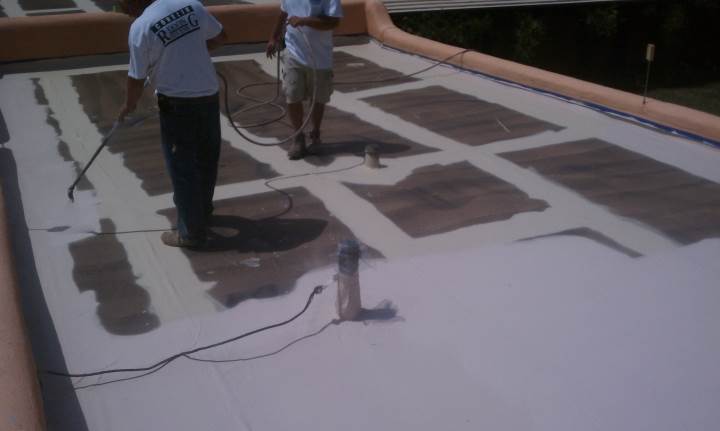 Why a Cool Roof in Belleview?:
Increase Energy Efficiency
Excellent Solar Reflectivity
Roof Protection
Sustainability
Improve Aesthetic Value
Great Return on Investment
Our roofing experts in Belleview specialize in elastomeric roofing. Elastomeric roofs are rubber based and can be applied in most colors imaginable. Colors can also be customized to suit your specifications. Most home and business owners in Belleview choose roof coatings in white because it best reflects solar rays, making the building extremely energy efficient. The building stays cooler, reducing HVAC costs and the natural aging of the building due to the sun's powerful rays is slowed considerably.
5 Steps to Getting a Cooler Roof in Belleview Florida
Hire a professional that is experienced in roof coatings in Belleview
Opt for a light colored coating, which will reflect the most UV rays
Choose heat resistant materials, and consider elastomeric coatings, which will expand and contract through weather cycles
Make sure your building has adequate ventilation
Green roofing will reduce the amount of heat that is absorbed by your roof. There are a number of plants and trees that can help shade your roof.
---
WHAT CUSTOMERS ARE SAYING:
---
5 ★★★★★ - "Couldn't have asked for better service! PJ had Quentin to my house in a 1/2 hr. Nothing major, so he fixed things right away for a reasonable price. One larger comp. I called, had a 6 mo. backlog! Nice guys who took a worry off my shoulders."
Kathy in Inverness, FL
---
Call for FREE Cool Roofs Quote
Dial Area Code first please.
---