Storm Damage in Inverness, Florida
We Are Your Inverness, Florida Storm Damage Roofing Experts
Inverness Roof Damage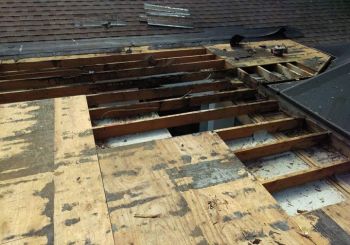 Because of intense storm winds in Inverness, roofs often sustain damage. Wind gusts often exceed 50-70 miles per hour during a storm, causing uprooting of trees and airborne branches. Storm winds in Inverness can result in devastating damages to your Inverness roof, such damaged shingles, flashings or even penetration from trees and flying debris.
---
Roof Damage in Inverness from Storms?
Call (352) 325-8385 For Immediate Assistance!
---

An Inverness Hail Storms: A Roof's Worst Nightmare!
Once a severe storm strikes and winds threaten, the updrafts of the wind can cause hail to form. Dirt and dust particles are carried upward, causing tiny balls of ice to form. When an Inverness hail storm hits, your roof and/or siding on your home can be effected. Hail damage in Inverness roofs can cause punctures, rips and tears. Hail can pelt your windows and your siding, leaving holes or punctures.

Roof Repairs After The Inverness Storm
Weather is unpredictable. Contractors should not be. Finding an Inverness roofing contractor to repair storm damage doesn't have to be difficult. The professional roofers here at P.J. Roofing, Inc have been securing homes and repairing roofs after storm damage in Inverness since 2015. When a storm damages your roof in Inverness with high winds and/or hail, you need a competent roofing contractor on your side. Let P.J. Roofing, Inc take care of your damaged roof.

Inverness Roofing Damage Experts
With over 7 years experience in repairing Inverness roofs after storm damage, P.J. Roofing, Inc has been providing reliable Inverness roof repair that you can count on. Our fast response time to a storm disaster in Inverness helps minimize any further damage to your property and helps keep the repair costs down. Our Inverness roofing team at P.J. Roofing, Inc will assess the damage and provide a written estimate for repairing your roof to its pre-damaged condition. P.J. Roofing, Inc has been providing exemplary roofing repairs for Inverness storm damaged properties for over 7 years. Call (352) 325-8385 for professional service and quick response!
---
Call for FREE Storm Damage Quote
Dial Area Code first please.
---
WHAT CUSTOMERS ARE SAYING:
5★★★★★ - "Everything went well! The start date was faster than expected, the roof was torn down and replaced the same day, and not messy at all!! Did a great job!! Daniel explained everything well and we're very satisfied, thank you."

Sarah in Inverness, FL

2021-10-21

5★★★★★ - "Earnest, Kristin, and Hannah all provided premier customer service. Thank you all, and I will definitely recommend your business to friends and family"

Michael, Roofing Prices in Inverness, FL

2020-09-21

5★★★★★

Dennis & Linda P., Metal Roofs in Inverness, FL

2020-07-10

5 ★★★★★ - "Couldn't have asked for better service! PJ had Quentin to my house in a 1/2 hr. Nothing major, so he fixed things right away for a reasonable price. One larger comp. I called, had a 6 mo. backlog! Nice guys who took a worry off my shoulders."

Kathy in Inverness, FL

5★★★★★ - "Awesome and great customer service! Great quality roof and did it in a timely fashion! Would definitely recommend"

Autumn Crabtree in Inverness, FL

2016-04-08

5★★★★★ - "PJ did my roof in August 2015 and did an amazing job! I love my metal roof, it was put on in fast time and was very reasonably priced! He took the time to show me all of my options of colors and was very patient with me as we tried every color up against my house, nothing but wonderful praises!!!"

Meriah - Inverness, FL

2016-04-05

5★★★★★ - "Their workers are very clean and prompt and easy to deal with"

John - Inverness, FL

2016-04-05

5★★★★★ - "PJ Roofing recently put a new roof on my house. They were pleasant, honest, and delightful to work with. The quality of their work and products used was all top-shelf. Polite, friendly, and explained several technical questions that I had. They added several side vents to my roof because they didn't think I had enough ventilation (neither did I). They did not charge me any extra for that service. When they were done, you couldn't tell that I had roofing people on my roof for four days. Cleaned up perfectly. If you want an honest and dependable and good quality roofing contractor these are the people to see."

Joseph Bedard in Ocala, FL

2022-03-28

5★★★★★ - "want to share with you this great experience with the best roofing company.
PJ Roofing, from Brooksville, Fl. Tel. 800-385-1139
PJ the owner installed my roof and did not ask me for any money until the job was completed.
That is someone you can trust. There aren't many people left in this world like PJ and his crew.
The quality of workmanship is the very best.
The values of the crew are admirable. Decent, Honest, Considerate, Roof installers that do a job with consciousness as if it were for their own home I would say.
The expertise in detail finish workmanship is outstanding.
Hope this information is helpful to you both."

Francisco C.:. US ARMY Ret. and Jocelyn C., Roof Replacement in Ocala, FL

2021-10-20

5★★★★★ - "Very nice people and very knowledgeable of their work. Very hard workers and answers your questions - would highly recommend them."

donald jordean in Hernando, FL

2021-10-04

5★★★★★ - "While other companies were too busy to quickly help us with a repair, PJ Roofing immediately sent Dan out. He found the cause of our roof leak and sealed it. He was prompt, courteous, knowledgeable, and immensely helpful. If we ever reroof, we now know who to call."

Cliff and Darlene in Hernando, FL

2021-09-29

5★★★★★ - "The best service of all. Reliable and friendly. We were in California and they were doing the whole house metal roofing for us. Once we arrived everything was done and beautiful and inspection passed."

Kimberly P.

2021-08-06

5★★★★★ - "PJ and the crew did an EXCELLENT job at a very competitive price. They completed our tear-off and re-roof in a day and a half including the clean-up. RECOMMEND PJ ROOFING!"

thevprman

2021-07-15

5★★★★★ - "For the past 3 years, we have used PJ Roofing for all of our flip house projects--a total of about 14 houses. They always treat us fairly, do an excellent, professional job and follow up immediately on any issues that we find. We will continue to give PJ our business."

Joy Roberts

2021-02-15

5★★★★★ - "They gave me the best price of any roofer, to remove the old roof and put on new. The guys did a great job on both my roof and the cleanup. I recommend them to anyone who asks about roofing. Quentin was the guy I worked with."

Kristin H., Roofing in Wildwood, FL

2020-03-09

5★★★★★ - "great job/great crew/treated well"

Anonymous in Floral City, FL

2018-08-27

5★★★★★ - "Everything looks great, workers did a wonderful job & clean up!"

Tammy M., Roofing in Brooksville, FL

2018-07-05

5★★★★★ - "Just wanted to say thank you so much for being so awesome through this whole process!! We love our new roof, the guys did a great job and the customer service has been exceptional! Thanks again for helping us through the process with no stress."

Jessica, Roof Installation in Winter Garden, FL

2018-05-01

5★★★★★ - "Your work crew was very polite, friendly and hard workers. They were a joy to have working on our roof."

Steve, Roof Repair in Lake Panasoffkee, FL

2018-05-01

4★★★★☆ - "great"

Anonymous, Roofing

2017-06-29

★★★★★ - "I was very impressed with PJ's customer service and prompt response. I called for a repair and he was at my house within 2 hours. The repair took less than 5 minutes and he didn't charge me. I would highly recommend!!"

Kim in Spring Hill, FL
---
Call for FREE Storm Damage Quote
Dial Area Code first please.
---